The IPKat's just discovered another
new book
, courtesy of Sweet & Maxwell: it's called
The Law of Photography and Digital Images
and it's by a London-based barrister,
Christina Michalos
.
The publisher's blurb describes the book as a "groundbreaking work" which provides "a one-stop source for all lawyers advising on the law of photography and digital images". Having written a book or two in his time, the IPKat would prefer "backbreaking" to "groundbreaking", but the bit about the one-stop shop is right. This isn't just a book about photography and digital images in their intellectual property context: a quick perusal of the table of statutes and statutory instruments provides a salutary reminder of the vast number of legal issues that beset photographers and those who want to use their images but which have absolutely nothing to do with the usual copyright issues of ownership, control, licensing and infringement. The human rights dimension is a just one case in point: some people don't want to be photographed while others pursue them, camera in hand, with passionate intent.
The IPKat likes the way the author has tackled the subject. She has not been sparing in her research, bringing numerous US and other non-UK citations to bear. If he had written the book, he would probably have given less space to the bits that deal with the
Advertising Standards Authority
and
Press Complaints Commission
-- not because the author has over-analysed them (she hasn't) but because they seem to him to be such weak and wimpish bodies and he doesn't like to think of genuine victims of advertising and press abuse being led to think they can really be of any help.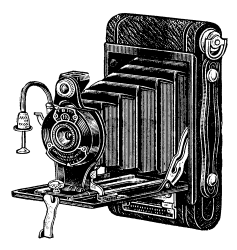 Christina Michalos has got her subject in sharp focus

The rather steep price of £155 suggests either (i) that the publishers know they've got a captive audience who will pay anything for a book on this subject and of this quality, or (ii) that they aren't expecting to sell too many copies. If this results in fewer people reading this work, that would be a shame. This book is obviously written by someone who is both well-informed and enthusiastic: it deserves a good audience too.
PHOTOGRAPHY AND DIGITAL IMAGES: A NEW BOOK
Reviewed by
Jeremy
on
Tuesday, December 28, 2004
Rating: