... for the CLT 7th
Annual Information Technology Law
Update conference. The
programme
includes a number of the IPKat's friends and the topics tackled include data protection, database protection, interception of communications, E-commerce, IT outsourcing and procurement, amendments to copyright law, digital rights management, business method patents, domain names and cybersquatting. What more could anyone ask?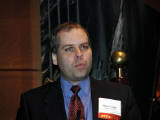 Robert Carolina: one of the most popular speakers at the Annual Update
STILL TIME TO BOOK ...
Reviewed by
Jeremy
on
Tuesday, January 25, 2005
Rating: