1 Are there any European "Breakaway Brands"?
The IPKat has been perusing
this item
he found on the MARQUES News Channel about the 2005 Breakaway Brands Study by
Landor Associates
and
BrandEconomics
. The study lists the ten brands in the United States that have made the greatest percentage gains in business value as a result of superb brand strategy and execution over a three-year period from 2001-2004. The study identifies the following ten Breakaway Brands: Google, LeapFrog (for educational toys), Sony Cyber-shot (digital cameras), Sierra Mist (soft drinks), Subway (quick-serve restaurants), BP, DeWalt (power tools), iPod, Eggo (packaged foods) and Gerber. Honourable mentions were also given to Cheer (laundry detergent), Caterpillar (industrial equipment but not, it seems, clothing), Firestone, Borden (dairy products) and Olympus (digital cameras), based on brand valuation metrics and analysis.
The IPKat wonders what sort of list might appear if anyone sought to identify the top ten European Breakaway Brands, using the same criteria. That's easy, says Merpel, it would consist of US brands since US = international and widely recognised while European = parochial and sometimes reluctant to travel.
2 Dominican Republic goes international with WIPO copyright treaties
The IPKat has just learned
here
and
here
that, as of 10 January 2006, the Dominican Republic will be an active member of the WIPO Copyright Treaty and the WIPO Performances and Phonograms Treaty. According to the Kat's calculations the
WCT
now has
56
adherents, while the
WPPT
lags slightly behind with
55
.
Dance the merengue (
left
)
here
Dominican Republic carnival masks
here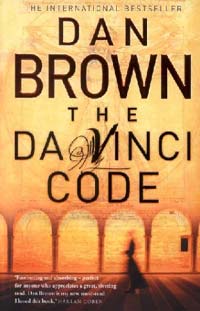 3 Da Vinci Code theft case for UK courts
The IPKat's
Telegraph
this morning
reported
that Dan Brown, author of
The Da Vinci Code (right)
, is to face a High Court action brought by the authors of the 1982 non-fiction book
The Holy Blood and the Holy Grail
(
left
), who allege that his blockbuster was based on a decade of their research. Speaking ahead of a preliminary hearing of the case next week, Richard Leigh (who co-authored the earlier work with Michael Baigent) said:
"I don't begrudge Brown his success. I have no particular grievance against him, except for the fact that he wrote a pretty bad novel".
Leigh and Baigent are suing Random House, Brown's publishers, for infringement of their ideas. They are funding the action with the proceeds of their book, which Random House has reissued in a special £20 hardback edition to cash in on the success of Brown's novel. A third co-author of the earlier work, Henry Lincoln, is ill and has decided to remain out of the action. A two-week trial is scheduled for the end of February, with both sides reputed to be assembling formidable legal teams.
The IPKat will be watching carefully for future developments. Given that the publicity generated by high-profile litigation will surely result in increased sales of both works, he doubts that either party will be tempted to accept a negotiated settlement.

Da Vinci Code
escapes
Daughter of God
infringement accusations
here
If you're clever enough to crack the Da Vinci code,
this one
is far harder to crack.
BREAKAWAY BRANDS
Reviewed by
Jeremy
on
Friday, October 21, 2005
Rating: