Pirates ahoy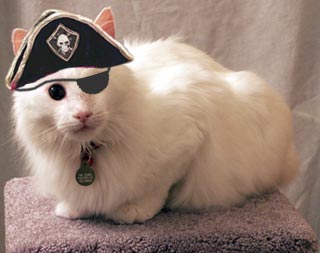 Today (19 September) be
International Talk Like a Pirate Day
. Celebrated th' world o'er (kind o') since 2005 ever' 19 September, th' idee be, surprisingly enough, t' talk like a pirate an' pepper yer conversation wi' such fun comments as 'avarst me hearties' an' 'keel haul th' plank'. Jus' think what fun ye could be havin' durin' meetings/lectures/appearances before members of the judicary.
Th' IPKat says, fer goodness sakes, don't tell RIAA.
Warner Bros – YouTube deal
Following on from last week's YouTube/MySpace post, the IPKat learns from AdWeek that YouTube and Warner Brothers have made a deal. YouTube authors will be abl
e to draw on Warner's back catalogue, in return to which Warner will receive a share of YouTube's advertising revenue. Said Warner Bros' CEO
"Consumer-empowering destinations like YouTube have created a two-way dialogue that will transform entertainment and media forever…user-generated content becomes more prevalent, this kind of partnership will allow music fans to celebrate the music of their favorite artists to reach consumers in new ways, and ensure that copyright holders and artists are fairly compensated."
The IPKat applauds this creative compromise, but notes that the fact that one company has chosen to use its copyright in this way does not mean that others are obliged to follow suit.
IT BE TALK LIKE A PIRATE DAY...BUT NOT DOWN AT YOUTUBE
Reviewed by
Unknown
on
Tuesday, September 19, 2006
Rating: