As winter draws on ...

The IPKat welcomes all the new readers who have recently started reading his intellectual blog. The circular list for readers who receive each fresh posting by email has now risen to 605: if you want to receive each new item by email as soon as it's posted, just email the IPKat here and you'll be added to the list.

While on the subject of this weblog, please feel free to add your comments to the postings (as many of you, gratifyingly, are now doing). The IPKat will respond wherever possible - time permitting! Even if he doesn't, at least all the other readers will have a chance to reflect on what you've said and to add comments of their own.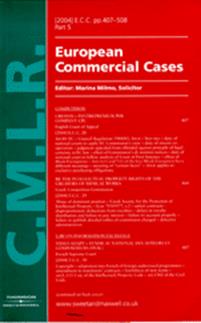 Latest ECC

Part 5 (2006) of Sweet & Maxwell's bimonthly European Commercial Cases has now been published. As the IPKat has mentioned, this series often carries reports on fascinating intellectual property cases (mainly German and French), all reported in full and in English.

This issue carries reports on two IP disputes. The first is the controversial UK litigation in Sportswear SpA v Stonestyle (noted here and here by the IPKat) in which, in an application for summary judgment, Mr Justice Warren refused to entertain what he felt was an almost certainly unmeritorious/irrelevant Euro-
defence to an action for trade mark infringement based on alleged infractions of Article 81 of the EC Treaty (anti-competitive agreements). The Court of Appeal disagreed, making the owners of the STONE ISLAND trade mark sweat a while longer before getting their relief. The second is the German Bundesgerichtshof decision in Re The Exploitation Right in a Computer Program, a complex dispute involving entitlement to rights following the insolvency of the author's employer.


Pat Lit - a study in blue

The IPKat has come across a handsome book with a nice blue cover, published by The European Lawyer. It's called Patent Litigation: Jurisdictional Comparisons and it's edited by two luminaries in the European IP firmament - Thierry Calame (Lenz & Staehelin, Zurich) and Massimo Sterpi (Studio Legale Jacobacci & Associati, Turin).


Right: could this staked blue cat (available here) be prior art in invalidity litigation regarding garden pest deterrence systems?

Following an overview by Paul A. Coletti (Associate Patent Counsel, Johnson & Johnson), 24 experts on patent litigation describe the key features distinguishing their own jurisdictions. Comparisons are aided by the use of a numerical template (for example, paragraph 8.2 of each national review deals with the availability of ex parte relief without notice, while 9.2 deals with the typical length of appeal proceedings), though some of the headings and subheadings are left in the form of questions addressed to the contributors themselves, which seems a little odd. The chapters on the whole read extremely well: many offer quite detailed discussion as well as further references. Both the editors and the contributors deserve congratulation for their efforts, their diligence and their self-discipline in remaining as far as possible within the formulaic straitjacket of the templates.

The book is in hardback; it's viii + 376 pages in length. The IPKat thinks this is a jolly good publication and he'd like to be able to tell you the price, but there doesn't appear to be one. Merpel adds, I'm both surprised and a bit dismayed that the publishers haven't so far (at least, as of today's date) posted any information on this book on their website. Can it be that, having made their profit from those contributors who have financed its production, they're not going to make any effort in selling it?