1 Iraq Trade Mark Office reopens
The IPKat has learned from his friend Nader Qumsieh (
NJQ & Associates
, Amman) that the Iraqi Trade Mark Office reopens tomorrow. The Office has been closed since May to allow for the transfer of files. If you need further information, contact
Nader
here.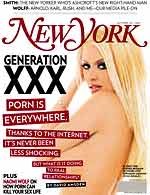 2 New York magazine rebrands
According to information posted on the
Corante
weblog,
New York
magazine, is to rebrand. Its website is also being changed from
NY Metro
to
New York Magazine
.
Sophisticated readers may never have problems with this title but one half of the IPKat, who reads things quickly and often inaccurately, tends to confuse the title with
New Yorker
magazine (which he very much enjoys). He wonders if he is the only one who makes this mistake, adding that it's only the title that confuses him: even a
"moron in a hurry"
would fail to confuse the magazines themselves.
3 Another easily-made mistake
Imagine the same half of the IPKat's surprise when he received an email announcing that his friends Ilora Choudhury and Emma Walton were going on a sponsored run to raise money for the Internet Corporation For Assigned Names and Numbers,
ICANN
. Once again it was a case of swift but inaccurate reading. The 5K run turns out to be for not ICANN but
I CAN
, a UK-registered charity that helps children with speech and communication difficulties.
Merpel says, ICANN's for adults with communication difficulties: they have some problems with people whose disability consists of adding the word "sucks" to some of the world's better-known brand names.
To sponsor Ilora and Emma (tax-efficiently, if you're a UK tax-payer) click
here
Online eye-testing
here
and
here
GOOD NEWS FROM IRAQ; BAD NEWS FOR SKIM-READERS
Reviewed by
Jeremy
on
Wednesday, August 31, 2005
Rating: