1 "I'm going to have to ask you to accompany me to the Trade Mark Registry ..."
The IPKat notes with interest and amusement a
news item
in
The Telegraph
that London's Metropolitan Police has now registered the words and signature logos METROPOLITAN POLICE and SCOTLAND YARD for a variety of goods including soaps, perfumes and aftershave lotions, alcoholic and soft drinks, and confectionery such as chocolate, snacks and biscuits. A Scotland Yard spokesman said:
"We are aware there may be business opportunities for income generation, hence the trademarking process. We realise that the Metropolitan Police is a really powerful brand."
The report continues with the surprising news that Scotland Yard has begun manufacturing many of its own products, such as glassware and clocks, which it sells over the internet and through a shop discreetly sited near its London headquarters.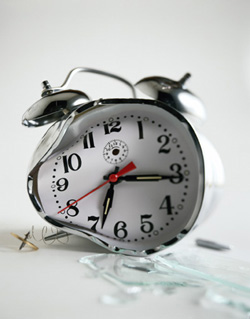 The IPKat had hoped that it would at least have the good sense to outsource its manufacturing activities; it's not much fun for a policeman to come back to the office after a hard day's work hunting terrorists and posing for tourist photos, if he has to start assembling clocks.
The Met has also recently embarked upon a lucrative deal with Corgi, the toy manufacturer, to sell models of its police cars (Corgi already make toy German police cars for the Polizei). Merpel is relieved that Corgi have not negotiated a reciprocal agreement to provide the capital with its police dogs.
2 Never tangle with a Geico
The IPKat found this on
The Register
, citing UK law firm Pinsent Masons'
Out-Law
legal information service. US car insurance firm GEICO's trade mark infringement claim against Google has been upheld. GEICO objected to the sale by Google "selling" its trade mark as a key word as part of its AdWords services, which let advertisers "sponsor" particular search terms for a fee, so that whenever that term is searched the advertiser's link will appear next to the search results. Google won the first round, gaining a summary judgment from Judge Leonie Brinkema (Eastern District of Virginia) that the sale of the sponsored search terms did not breach GEICO's trade mark rights. That ruling did not however determine whether the use of the trade marked terms in the text of sponsored ads breached GEICO's rights.

In a new ruling, Judge Brinkema held that GEICO had established that Google's practice caused a likelihood of confusion and that the insurance firm's trade mark rights had been infringed "solely with regard to those sponsored links that use GEICO's trade marks in their headings or text".
The parties have now been given 30 days in which to settle, failing which they return to court to finalise issues relating to liability and damages.
The IPKat remains uncertain about this. If a wine waiter in a restaurant solicits cash from Bloggins Inc to suggest its BLOGGINS brand of wine every time a customer asks for CHATEAU D'OR wine, would that also constitute a trade mark infringement? How close is the analogy? And is this an internet-driven policy decision?
POLICE TRADE MARK and POLICING TRADE MARKS
Reviewed by
Jeremy
on
Monday, August 15, 2005
Rating: