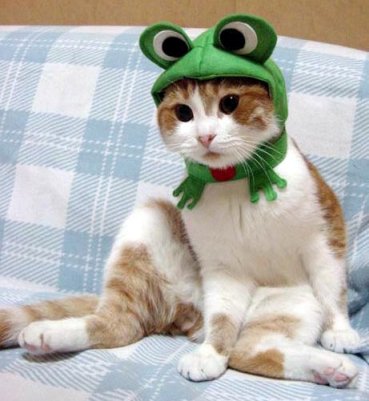 Cat caption winner

The IPKat has now received news of the winner of his Cat Caption Competition from the adjudicator, the bubbly and vivacious Charlotte Presse, of CPA.

The winner is Sarah Pollock's "The IPKat - fully kermitted to the cause of intellectual property ...".


Well done, Sarah - you win complimentary admission to The Business of IP: 10 questions the CEO will ask in the next 5 years (conference details here). Get in touch with Charlotte here, Sarah, so that your registration details can be arranged. Charlotte has also picked out some near misses, for honourable mention: they are as follows:

David Brophy: (i) "Yes - the illusion was complete! Only a series of nonchalant hops down the garden path to the pond stood between Mr. Tiddles and his lunch" and (ii) "Scooter paused, a horrible realisation sinking in. The disguise was perfect, and surely the goldfish would fall for it. But would his new ears fit through the catflap?".


Kate Colbourne: (i) "Someone just hadn't got the hang of the idea behind leapfrog" and (ii) "No one at the pond was more surprised than Freddie himself, when he coughed up a rather large fur ball".

Melonie Atraghji: (i) "Why can't I get that sodding ring-tone out of my head?"" and (ii) "Gene-splicing. Right or wrong?".

Nicholas Braddon: (i) "Complaining of a cat in its throat, the frog was too ill to go into the office"; (ii) "The auditions for next year's DFS adverts had taken a bizarre turn".

Thanks, all of you - winners, near-winners and those whose talent has yet to be properly recognised! Gathering the captions in turned out to be a lot of fun.

Thanks, also, to CPA and IAM for their kind support of this competition.

Frog recipes here and here