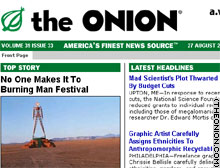 AMBIEN hit by Onion
Another lifestyle trade mark has just been given a
roughing-up
by the IPKat's favourite satirical US publication
The Onion
. This time it's sleeping pill
AMBIEN
, "increasingly blamed for auto accidents". As ever, the brand owner's best policy - if the company can't laugh it off - is just to ignore it.
Same Old Song
The IPKat thanks his friend Ben Challis for drawing his attention to the BBC Radio 2 Series 'Its The Same Old Song', looking at plagiarism, pastiche and plundering of popular music. Hosted by Marc Riley, the next programme in this four part series can be heard at 21.30pm on Tuesday 21 March. Programmes one and two in the series can be resurrected on BBC Radio 2
online
.
The Same Old Song
(Four Tops version)
here
;
Same Old Song and Dance
(Aerosmith)
here
Look What They've Done to My Song
, a.k.a. Ils
Ont Changées Ma Chanson, Ma
(wonderful song by Melanie Safka)
here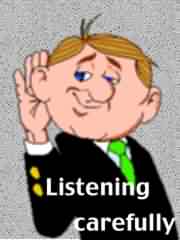 What's your opinion on relative grounds for TM refusal?
Oliver Morris (UK Trade Marks Registry) has jogged the IPKat's memory and reminded him to alert his readers to the fact that the UK Patent Office has published its long-awaited
consultation paper
on the future of relative grounds for refusal. The Office is keen (yes, truly, as you'll know if you've ever dealt with them) to receive the views of as many of its users as possible on this important issue. So, if you've anything useful to say, you've got till
17 May 2006
to say it. All comments should be emailed to
Louise White
at the Trade Marks Registry.
This is a tricky topic. The Kat says it's unfair to expect trade mark examiners to police existing registrations and applications and do their owners' work for them. But Merpel says that, the more the trade mark registration system appeals to small and medium-sized businesses that don't have their own in-house IP capacity and can't afford trade mark watch services, the more possible cases of confusingly similar marks finding their way on to the register are likely to arise. Perhaps the solution is for the registry to run its own paid-for trade mark watch service, or to increase its extremely reasonable fees in order to recover the cost of full
ex parte
relative grounds examinations.
IPKat post on the Trade Mark Registry's pre-consultation exercise
here
.
And, for once, here's a competition that the IPKat isn't running ...

The IPKat's friend, scholar, practitioner and author David Musker, has sent him a link to an OHIM competition.
It's the Annual Competition for the Best Dissertation in the Field of Community Trade Marks and Designs. Entry details
here
; closing date
15 October 2006
. This competition is NOT for the faint-hearted: even the entry rules cover six pages.
AMBIEN HIT BY ONION; SAME OLD SONG; CONSULTATION EXERCISE; OHIM COMPETITION
Reviewed by
Jeremy
on
Friday, March 17, 2006
Rating: